Freedom's Steel™ VIII – Ribbons of Liberty Bowie™
Freedom's Steel™ VIII – Ribbons of Liberty Damascus Bowie™
Knife Rights' Extraordinary Custom Collaboration Knife
Supporting NRA-ILA and the Second Amendment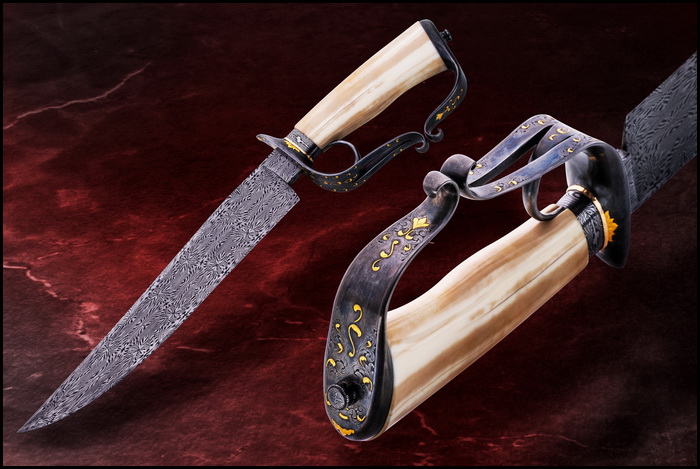 Freedom's Steel™ VIII – Ribbons of Liberty Damascus Bowie™ celebrates the Second Front in Defense of the Second Amendment™ and the liberties we fight to protect. The ribbons of liberty that run through this great country bind us together in the fight to retain our freedom.
Knife Rights has donated Freedom's Steel™ VIII – Ribbons of Liberty Bowie™, a one-of-a-kind custom crafted knife by American Bladesmith Society Master Bladesmith David Lisch with Firearm Engravers Guild of America Master Engraver Layne Zuelke engraving, to the National Rifle Association's Institute for Legislative Action (NRA-ILA) to support NRA-ILA's defense of the Second Amendment. Knife Rights is the Second Front in Defense of the Second Amendment™.
| | |
| --- | --- |
| | Freedom's Steel™ VIII – Ribbons of Liberty Bowie™ will be a featured auction item at the NRA-ILA Dinner and Auction to be held at the NRA Annual Meeting in in Indianapolis, Indiana, the evening of April 26. Proceeds from the sale of Freedom's Steel™ VIII will support NRA-ILA efforts to defend the Second Amendment. This is the eighth year in a row that Knife Rights has donated a Freedom's Steel™ knife, raising over $225,000 the first seven years. To purchase tickets to attend the dinner and auction, contact Annie Wang at AWang@nrahq.org. Hurry, tickets will sell out! |
"Our Second Amendment freedoms have never been at such risk as they are today. We must all be active and united defenders of our rights and freedom or we will see them taken from us. Knife Rights and the NRA have a common interest in protecting our civil rights and specifically the right to own and use tools appropriate for self-defense. Knife Rights is proud to assist NRA in protecting these rights," said Knife Rights Chairman and Founder Doug Ritter. "We are sincerely grateful for the support provided to us by NRA-ILA as we fight the Second Front in Defense of the Second Amendment."
"Since 1871, the NRA has fought to defend the rights of law-abiding Americans. We are truly grateful for the support of our friends at Knife Rights and their continued contributions to our ongoing efforts to preserve our freedom," said Chris W. Cox, Executive Director of the NRA's Institute for Legislative Action."
Ritter noted, "we are indebted to these incredibly talented artisans who contribute their valuable time, talents and materials to support Knife Rights by creating this extraordinary knife." Each craftsman's efforts and every component of Freedom's Steel™ VIII – Ribbons of Liberty Bowie™ was donated to Knife Rights to support its efforts to defend and enhance our right to own and carry knives as tools used daily by millions of Americans and at times wielded as an "arm" in self-defense.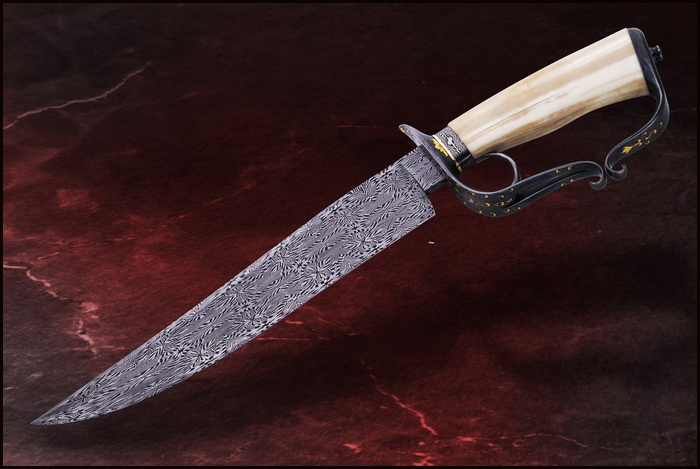 Freedom's Steel™ VIII – Ribbons of Liberty Bowie™ was conceived and sponsored by Knife Rights expressly to benefit NRA-ILA.
American Bladesmith Society Master Bladesmith David Lisch, located near Seattle, Washington, has forged his signature Split Ring D-Guard Bowie in a unique "Ribbons of Liberty™" Mosaic Damascus pattern developed and produced for this one and only time into this magnificent blade. There will never be another blade with this pattern. After creating the Mosaic Damascus from alternating layers of 1080 & 15N20 high carbon steels, David forged the blade, ground and heat treated it before finishing it.
Lisch's signature Split Ring guard was masterfully hand forged of pure iron, then the pommel was hand forged to meet the guard in the form of two scrolls creating the D-Guard. Both the guard and pommel were hand finished and polished to prepare them for engraving.
The fitted handle of Alaskan exhibition grade fossil Walrus Ivory, donated by Mark Knapp's Edge of the Arctic Trading Post, is perfectly contoured with a spacer of Lisch's Explosion Pattern Damascus and a forged domed 14K Gold spacer. The handle is secured to the knife by a complementary Explosion Pattern Damascus finial which screws onto the forged and threaded tang of the knife. Internal stainless steel pins ensure perfect alignment of the handle to the pommel, spacer, guard and blade.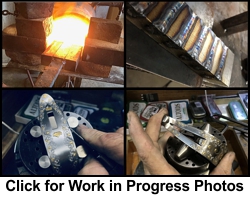 Measuring 16 3/4 inches from finial to tip, Freedom's Steel™ VIII – Ribbons of Liberty Bowie's™ 11 1/8-inch long by 1/4-inch thick blade seems almost too beautiful to ever use, but it is a perfectly functional tool handcrafted to do any job a Bowie knife might be asked to do. It is sharp!
Firearms Engravers of America Master Engraver Layne Zuelke, based in Baton Rouge, Louisiana, has executed his signature style of American Scroll that he has developed with influences from both modern masters and ancient arabesque styles. The engraving was all cut by hand in deep relief with extensive raised 24K Gold inlay. Zuelke took care to allow the engraving to flow organically over the curved surfaces of Lisch's pure iron D-Guard in order to enhance and not compete with the natural lines of the knife.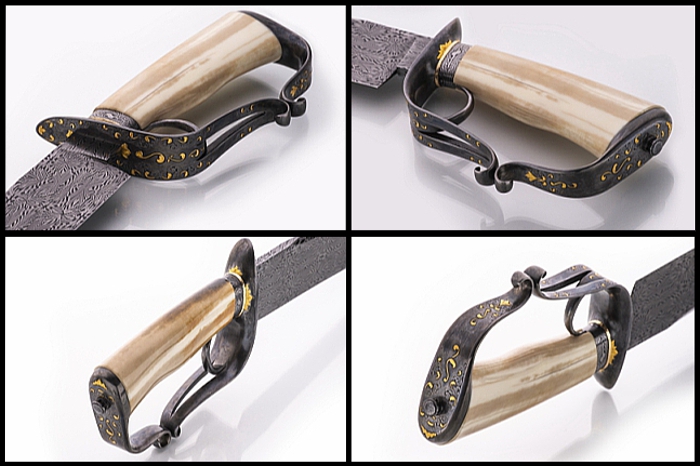 To complement this extraordinary Freedom's Steel™ VIII – Ribbons of Liberty Bowie™ by two Masters of their craft, Lisch has forged a hammered steel display stand with Fossil Walrus Ivory rests.
Also, comes with a signed first edition of "A Sure Defense: The Bowie Knife In America," the definitive tome on the history of the Bowie knife.  It was generously donated by Knife Magazine.

About The Collaborators & Donors

Master Bladesmiith: David Lisch
Engraver: Layne Zuelke
Fossil Walrus Ivory: Mark Knapp – Edge of the Arctic Trading Post
Photographer: Dirk Loots – Photography by Dirk Loots
"A Sure Defense" Book Donor: Knife Magazine
Sponsor: Knife Rights
Recipient: NRA Institute for Legislative Action
(See details of each collaborator and donor below)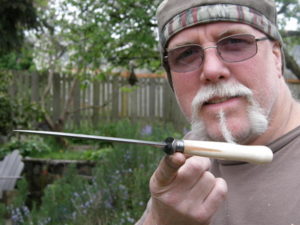 Master Bladesmith: David Lisch
Yelm, Washington
www.DavidLisch.com
www.instagram.com/DavidLisch
www.facebook.com/DaveLisch
David Lisch is a respected innovator of unique guard designs and Damascus patterns that can be seen in all of his beautiful knives.  David's mosaic Damascus shows unique patterns in the steel that are clean and controlled. His knives push the boundaries, and you can see the influence of his 26 years of blacksmithing in every knife he makes.
As well as being a bladesmith for more than 13 years, David is either fishing or teaching at his bladesmithing school, Oak Grove Forging Facility located southeast of Seattle,Washington. He achieved a Master Bladesmith rating from the American Bladesmith Society in 2015 and is the sixth Master Smith in the state of Washington.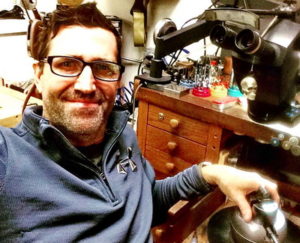 Master Engraver: Layne Zuelke
Baton Rouge, Louisiana
www.southerncustomengraving.com
www.instagram.com/LayneZuelke
www.facebook.com/Layne.Zuelke
Lane Zuelke is a Firearms Engravers Guild of America Certified Master Engraver. He works out of his studio in Baton Rouge, Louisiana. Formally trained as a jeweler, he has over 30 years experience on the bench with over half that time involved in hand engraving. While his main focus is gun engraving, he also cuts a wide variety of other objects from fine woodworking tools to watches, jewelry and knives. You can also watch him on YouTube at Master Engraver TV  where you can get a glimpse into the studio as he works on projects. Pay a visit and subscribe if you are interested in the art of hand engraving.


Fossil Walrus Ivory: Mark Knapp – Edge of the Arctic Trading Post
Fairbanks, Alaska
www.markknappcustomknives.com/
www.instagram.com/Mark_Knapp_Custom_Knives
www.facebook.com/MarkKnappCustomKnives
Mark Knapp, a tool and die maker with 38 years experience, along with his wife, Angel, own and operate Mark Knapp Custom Knives located at Edge of the Arctic Trading Post – Custom Knives and Art Gallery in Fairbanks, Alaska. The shop is a full service machine shop, custom tool making and knife sharpening shop. Mark's background as a tool and die maker and several semesters enrolled in the University of Alaska's Fine Arts Program provide Mark with the working knowledge to produce knives of superior quality and exceptional beauty.
Having worked seasonally as a big game guide, professional trapper and commercial fisherman for over half of his adult life, Mark is fortunate to have acquired an insight into the form and function of knives from working field knives to true works of art.
At Edge of the Arctic Trading Post, you will not only find Mark's handmade creations, but you can also choose from carvings and artwork by gifted craftsmen and women from around the state and choose from our selection of quality ulus made right in the store.
For the custom knife maker and carver, we have hundreds of natural materials, horns, antler, fossil ivory, mammoth teeth, exotic hardwoods and minerals from around the world.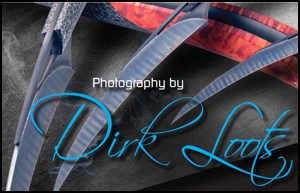 Photographer: Dirk Loots – Dirk Loots Photography
Cumming, Georgia
www.dirkloots.com
www.instagram.com/dirk.loots
 www.facebook.com/dirklootsphotography
Dirk Loots is a South African born knifemaker now living and working in Cumming, Georgia. His knife-making journey began in 2011 after taking a course in South Africa that taught him the possibilities of knives as an art form. By 2016, Dirk had become quite accomplished and entered the high-end "functional-art" market; whereby he immediately garnered the attention and respect of some of the finest knife makers in the world.
In addition to knives, Dirk is also an accomplished photographer. He was renowned in his home country as the preeminent photographer of master knifemakers in South Africa. Dirk has had the pleasure of working with phenomenal artisans from across the globe and his photography skills are available to other knifemakers upon request.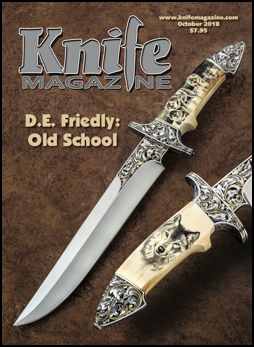 A Sure Defense Book Donor: KNIFE Magazine
Knoxville, Tennessee
www.KNIFEMagazine.com
www.instagram.com/TheKnifeMag
www.facebook.com/TheKnifeMag
KNIFE Magazine is an oversized, full color, glossy magazine printed on quality paper stock, created for people who are passionate about knives — by people who are passionate about knives.
50% larger than a standard magazine, KNIFE Magazine serves dedicated knife enthusiasts who want the best in informative, objective, and timely content. Among its regular contributors are cutlery hall-of-famers and other respected experts in their fields, and its big, beautiful photography is unrivaled.
Whatever sort of knives interest you – handmade, factory, vintage, collectibles, military or hard-working users — you'll find something of interest in each monthly issue – not to mention the latest news from the industry, knifemaking organizations, and of course from Knife Rights.
Available ONLY by subscription!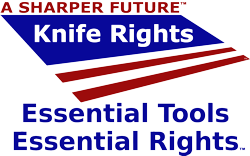 Sponsor: Knife Rights, Inc.
Doug Ritter, Founder and Chairman
www.KnifeRights.org
Knife Rights is the Second Front in Defense of the Second Amendment™. Knife Rights is Rewriting Knife Law in America™, forging a Sharper Future™ for all knife owners with 30 bills repealing knife bans enacted in 22 States. Knife Rights is dedicated to providing knife owners an effective voice to influence public policy. Knife Rights is also engaged in a Federal civil rights lawsuit on Petition for Writ of Certiorari to the U.S. Supreme Court against New York City for its unconstitutional prosecution of over 70,000 pocket knife owners.

Recipient: National Rifle Association's Institute for Legislative Action (NRA-ILA)
www.NRAILA.org
The Institute for Legislative Action (ILA) is the lobbying arm of the NRA. Established in 1975, ILA is committed to preserving the right of all law-abiding individuals to purchase, possess and use firearms for legitimate purposes as guaranteed by the Second Amendment to the U.S. Constitution. While NRA is a single-issue organization, ILA is involved in any issue that directly or indirectly affects firearms ownership and use. ILA is also involved in educating the public about the facts concerning the many facets of firearms ownership in America.
---
Knife Rights' Donated Collaborations Benefiting NRA Institute for Legislative Action

---
Knife Rights' Donated Collaborations Benefiting NRA Women's Leadership Forum