Knife Rights has donated Lady Liberty's Steel™ III – Isabel – Freedom's Web™, a stunning one-of-a-kind 19.75-inch Mosaic Damascus sole-authorship dagger by American Bladesmith Society Master Bladesmith Véronique Laurent, to be auctioned off at the National Rifle Association's 13th Annual NRA Women's Leadership Forum Luncheon and Auction during the 2019 NRA Annual Meeting in Indianapolis, Indiana.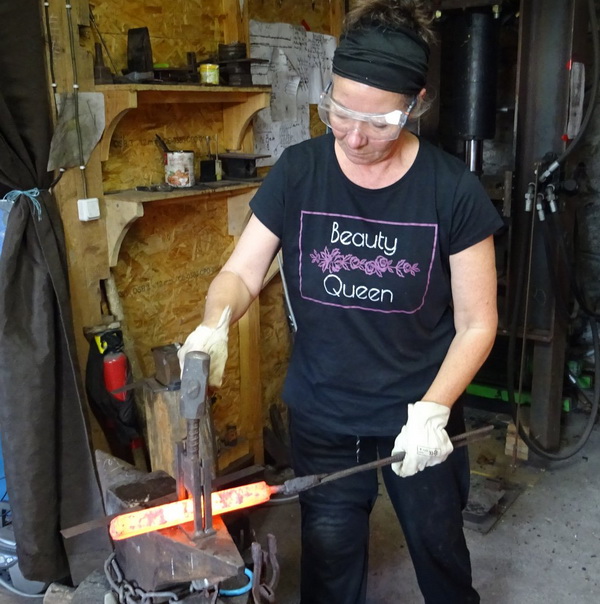 Knife Rights Chairman and Founder Doug Ritter said, "we are indebted to Master Bladesmith Véronique Laurent for her extraordinary generosity in supporting Knife Rights and the NRA Women's Leadership Forum. Said Sue Ritter, Knife Rights Director of Development, "we are honored to be able to support the WLF's efforts to engage more women in our joint fight for freedom."
Véronique Laurent of Brussels is one of only four female Master Bladesmiths in the world (one of whom is retired) and the only one from Europe. Every knife she makes is unique and she develops a unique Damascus pattern for each blade. Each knife is named and she admits to talking to them by name as she forges and works on the knife.  Before the dagger was donated to Knife Rights to become Freedom's Web™, Laurent's named it "Isabel."
The dramatic and intricate central forged mosaic spider web pattern Damascus inspired Isabel's freedom-related name for a Knife Rights' donation, Freedom's Web™. This represents the interwoven web of enumerated and natural rights and freedoms that uniquely protect Americans and for which the Second Amendment serves as freedoms' ultimate protection.
Before Laurent delivered the dagger to Knife Rights at last year's International Custom Cutlery Exhibition, one of the most prestigious knife shows in America, Isabel – Freedom's Web™ won the Best Fixed Blade award. Laurent also walked off with three other major awards at this show. Laurent is not just a Master Bladesmith, of which only 120 are living in the world (including retirees), but she is among the best of the best.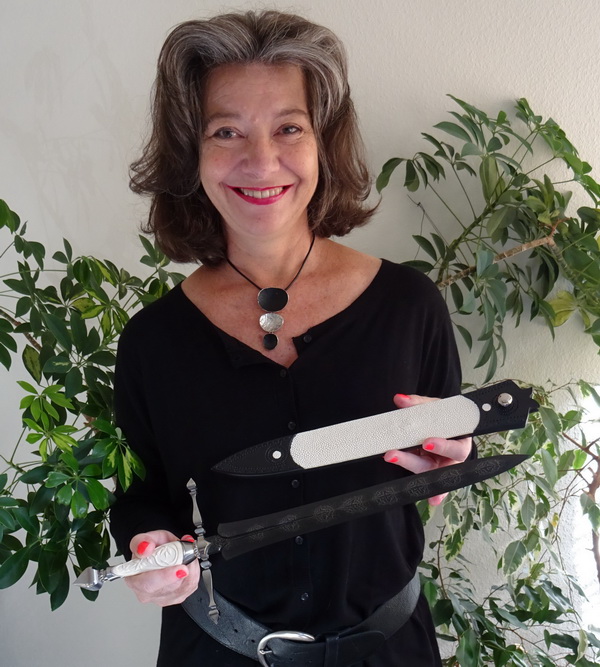 "Why is a Belgian Master Bladesmith donating a knife to Knife Rights to benefit the NRA Women's Leadership Forum? It is because of attitudes. When Laurent was starting out as a bladesmith, despite help from some established European bladesmiths, all too often what she heard in Europe was "girls do not make knives." Despite her considerable obvious talent and passion, she had difficulty being taken seriously by too many she met in Europe, an issue that persists even today. At one knife show Laurent recalls, "(a man) said, 'what a beautiful knife, may I speak to the smith?' I said, 'that's me.' He looks at me and says, 'okay, but I would like to speak to the smith.'" At another show, "someone stands in front of my table with my knife in his hands. He asks, 'who made that?' I said, 'I did.' He throws the knife on the table and walks away!"
Meanwhile, American Bladesmith Society Master Bladesmiths were mentoring her.  In 2013 she attended BLADE Show in Atlanta, Georgia, the largest knife show in the world. While there, Laurent took and passed her Journeyman Bladesmith test for the ABS.  Attending the show was a revelation.  Her gender did not matter. She was enthusiastically encouraged by all she met, knifemakers and collectors alike. She remarked, "the United States gave me the chance to make a living as a knifemaker.  The NRA stands for freedom and that freedom was welcoming to me."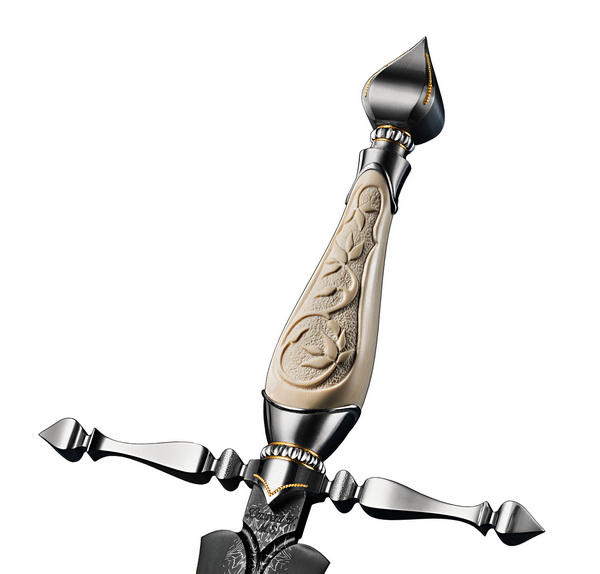 "In 2015 Laurent passed her Master Bladesmith test.  She has only made eight daggers since 2015, Lady Liberty's Steel™ III – Isabel – Freedom's Web's™ is the sixth. This dagger is an even more significant collector's piece because it is her first knife in which she has inlaid 24K Gold.
Lady Liberty's Steel™ III – Isabel – Freedom's Web's™ handle is exhibition-grade interior fossil Mammoth Ivory. The 13.75-inch flat-ground dagger blade is a forged composite assembly with a complex mosaic spider web pattern Damascus center section with multi-bar O2 High Carbon Steel edges.  Lady Liberty's Steel™ III – Isabel – Freedom's Web™ is 19.75 inches long overall.  Laurent's hand-tooled and hand-sewn black leather sheath is inlaid with ivory caviar finish Stingray leather with a 24K Gold inlaid stud.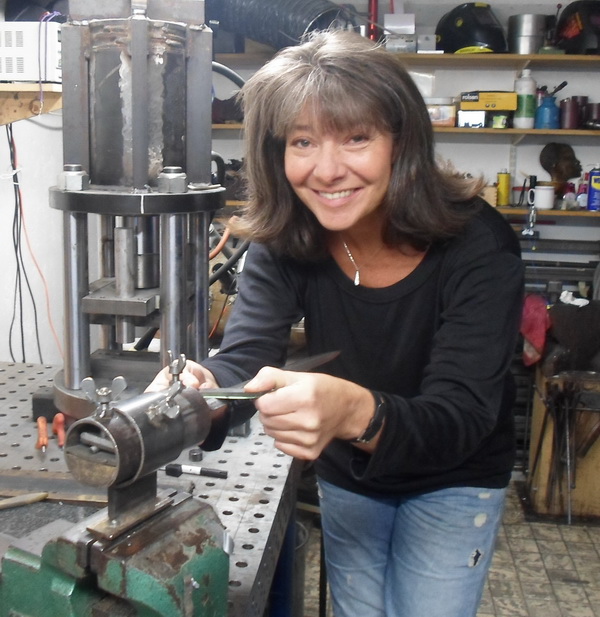 Véronique Laurent was born in 1968 in Belgium and now resides in Brussels.  Initially, her interest lay in cold iron work, not making knives. In 2004 she attended a forging event where the Belgian Knife Society gave knife forging demonstrations and her passion for forging knives was kindled. She took a class from a Belgium bladesmith and he providing additional advice for a period of time. Her partner, Michel, built her a hydraulic press, belt grinder and other knifemaking necessities to continue her bladesmithing journey.
In 2010, a French collector invited her to a gathering of bladesmiths. Laurent met Master Bladesmith Joe Keeslar of the American Bladesmith Society and became excited about their rigorous apprenticeship-based training system. As she relates, "the beauty is that they share all their knowledge. You get all the information you need to move forward. It is very motivating." After spending two years as an Apprentice Bladesmith, Laurent crossed the Atlantic to attend BLADE Show in Atlanta, Georgia, and passed her Journeyman Bladesmith test in 2013.
A mere two years later in 2015 her growing skill set and passion for excellence allowed her to pass the very demanding Master Bladesmith test. At the time, she became the third female Master Bladesmith and she started knifemaking full time. In 2017, after lessons from a Master Engraver, she started engraving her knives. She produces an average of seven large knives annually.  Her knives are in collections all over the world.
Click for Véronique Laurent's Facebook page
For more information contact Véronique at:  whatsonthebench@gmail.com
Photography: Caleb Royer
Springfield, Missouri
www.calebroyer.com/
I photograph custom knives. Every piece is unique and deserves to be photographed uniquely. Every image I shoot is customized to its knife. I create deep, engaging, emotional reactions when you see the knives in my images. I am Caleb Royer and I am a custom knife photographer.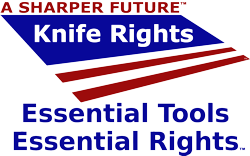 Sponsor: Knife Rights, Inc.
Doug Ritter, Founder and Chairman
Sue Ritter, Director of Development
www.KnifeRights.org
Knife Rights is the Second Front in Defense of the Second Amendment™. Knife Rights is Rewriting Knife Law in America™, forging a Sharper Future™ for all knife owners with 30 bills repealing knife bans enacted in 22 States. Knife Rights is dedicated to providing knife owners an effective voice to influence public policy. Knife Rights is also engaged in a Federal civil rights lawsuit on Petition for Writ of Certiorari to the U.S. Supreme Court against New York City for its unconstitutional prosecution of over 70,000 pocket knife owners.
Recipient: National Rifle Association Women's Leadership Forum
www.nrawlf.com
With more women picking up firearms than ever before, and with so much at stake in our country, there is no more vital time than now to stand up and take an active role in preserving our cherished freedoms. The NRA Women's Leadership Forum is the only philanthropic society of its kind and the fastest-growing community in the NRA. Not only do we care deeply about the future and want to make a lasting difference; we also have a tremendous amount of fun doing it.
---
---